Picfair Village Neighborhood Association Board 2018-2019
(L-R): Andrew Schulman (Vice President), Michael Plante (President), Michael Osowski (Secretary, Valerie Woodson (Treasurer)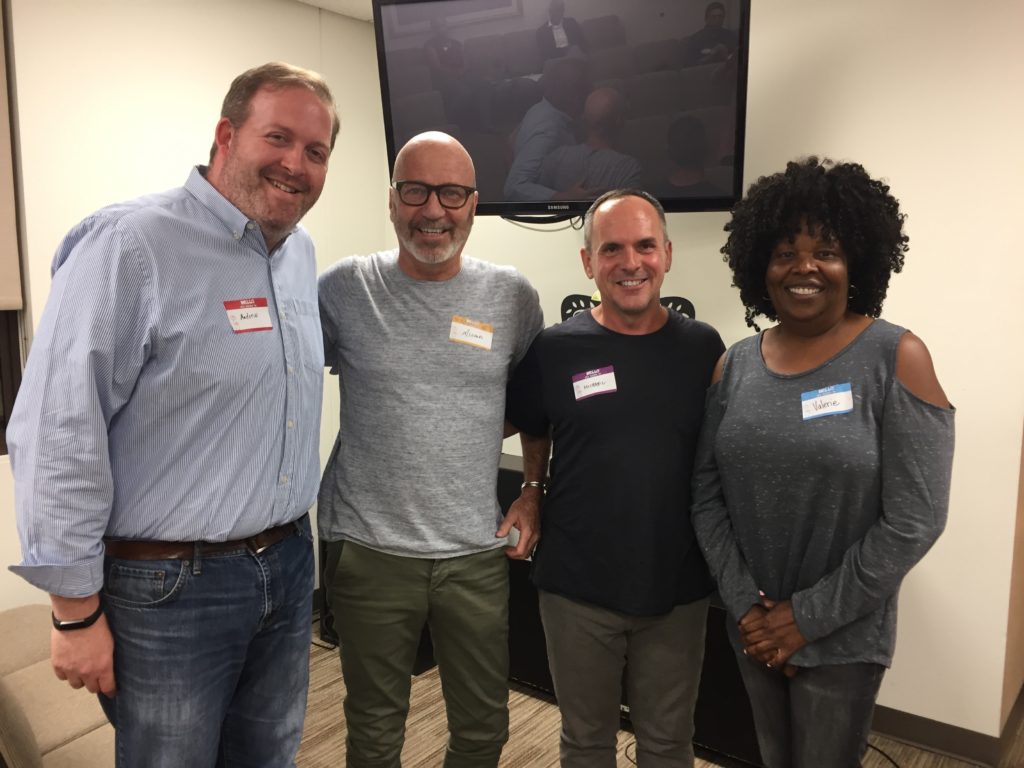 Michael Plante – "My husband, Michael Osowski, and I moved into our home on the 1500 block of S. Sierra Bonita Memorial Day weekend a little over 2 years ago with our 2 corgis and 2 cats and we have felt at home immediately. We left an amazing neighborhood community in South Orange NJ where we lived for 22 months and prior to that we lived in a Brooklyn Neighborhood called Boerum Hill. Picfair Village is very reminiscent of these past 2 communities where we lived and where we were involved. My job as VP for Tiffany & Co. drove our move and we're so thankful as we've found this great place to live.
I believe in community, support and a collaborative approach to building a welcoming neighborhood. I look forward to supporting the PVNA in growing from the clearly solid foundation that has been built. Looking forward to our future!"
Andrew Schulman – Andrew moved to Picfair Village in Spring 2017 and was immediately drawn to the feeling of community he felt walking the streets and talking with neighbors. He joined the PVNA Board to develop programming to help neighbors get to know each other better, navigate city services and build on the great sense of togetherness and pride we already have in our neighborhood. When he's not focused on PVNA activities, Andrew is a husband, a father and loves sports of all kinds (mostly watching, but playing too!).
Michael Osowski – "I've lived in Picfair Village on the 1500 block of Sierra Bonita for 2 years. I moved with my husband, Michael Plante, two Corgis, Lucy and Betty and two cats, Dot and Pink from South Orange, NJ where we lived for 22 months. Prior to that we lived in Brooklyn for 8 years.
Since moving here, I've grown to love our new neighborhood. We've met and become friends with many of our neighbors and feel a sense of welcome and community within our little section of LA.
Even though my job as Production Director for Joe's Jeans keeps me very busy and traveling overseas several times a year, I will be making time to get more actively involved in advancing the needs and interests of the residents of Picfair Village through my role as secretary the Picfair Village Neighborhood Association. In this role, I will be supporting the needs and priorities of the PVNA Board with the goal of giving back to the community through my time and efforts."
Valerie Woodson – Valerie has lived in Picfair Village since 1983. "I would like to see PVNA be a place where new and innovative ideas can take root and grow, and become a Five Star community."